The lock
Compact and modular
The Hausmann&Co compact-lock is a modular lock being accommodated by the trigger plate. As the name suggests, an important requirement was the extremely compact design. It reminds, to a certain extent, of a side lock with overhead trigger rods. A very high degree of security as well as pleasant trigger characteristics are the results of this new design. The modularity is defined by the fact that the squat appearing construction can easily be used in every kind of double-barrelled break action.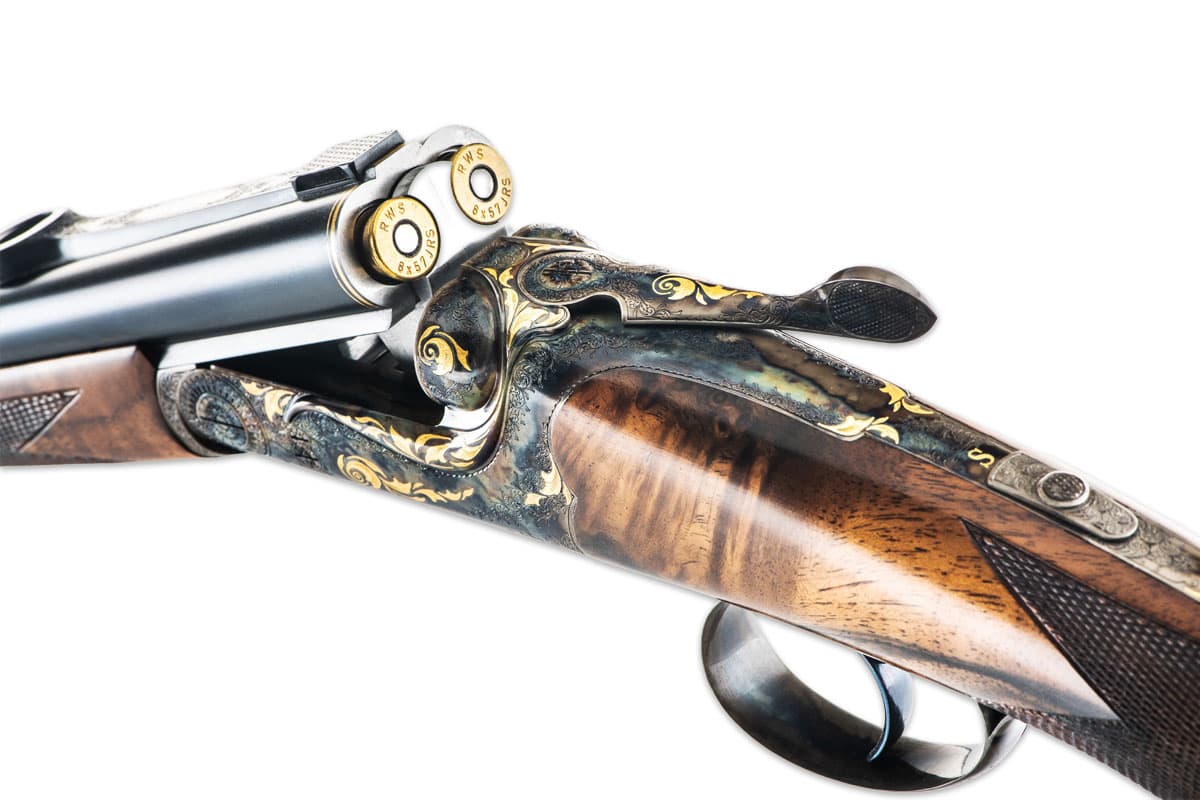 The single trigger
Area of expertise: the driven hunt
To round out the new construction, the single trigger of the Hausmann&Co compact-lock double rifle also finds itself in a new shape. A mechanically forced trigger system ensures a very fast shot release and prevents the rifle from firing accidently two shots in a row.
Further advantages
Not only round body
In terms of haptics, the Hausmann&Co compact-lock double rifle represents a very light, streamlined double rifle being truly ergonomic due to its round bodied design. Special barrel steel fitted in a shoe lump and united by new designed ribs create the basis for a graceful, easy-to-handle hunting rifle. Along the same lines, the calibre choice fell to the proven 8×57 IRS. The bottom line is the creation of a double rifle, whose dimensions and weight rather remind of a single-barrel break action – having the immense advantage of an immediate second shot.
The stock
Handcrafted to measure
Obviously, this unique kind of gunsmithing art is framed by an individually fitted stock, handcrafted from finest Caucasian walnut. Its unique grain is highlighted by a traditional oil finish and is finalised by a hand-cut checkering.
| | |
| --- | --- |
| Action: | Hausmann & Co Compact-lock action with double barrel hook locking |
| Calibre: | 8x57IRS (different calibres on request) |
| Barrel length: | 62cm (24inch) |
| Total length: | 106cm (42inch) |
| Weight: | 2.8 kg (6 lbs) without scope, |
| Calibre: | 8x57IRS |
| Options: | set of spare barrels, double trigger combined with a set trigger, leather covered pad, skeleton heel plate or ´heel and toe´ |