The engraving concept
The extraordinary engraving of Peter Schaschl's "Big Salmon River" bolt-action rifle begins with its climax on the magazine cover, where an irritated bear looks backwards with his mouth wide open and turns to a standing moose bull. If you look at the bolt lever you can see the salmon that is just caught in the bear's paw. The body of the fish is torn open (red gold) and the roe (yellow gold) emerges. The playful ornament along the trigger guard looks like turbulent, rippling water and at the end of the bracket, on the pistol grip cap, you can see a snarling, angry wolf. On the left side of the bolt-action rifle, the bull moose is shown, on the right, the bear catching salmon. A closer look at the highly detailed engraved scenes reveals the connection between the later meeting of these three opponents. The butt plate is also richly engraved and shows a stalking wolf, attracted by the smell of salmon. A special highlight is on the front sight. The bear on the left and the wolf on the right are depicted in a very special, shadowy engraving technique that blends into the landscape. Hausmann&Co would like to take this opportunity to thank Peter Schaschl again for this excellent engraving.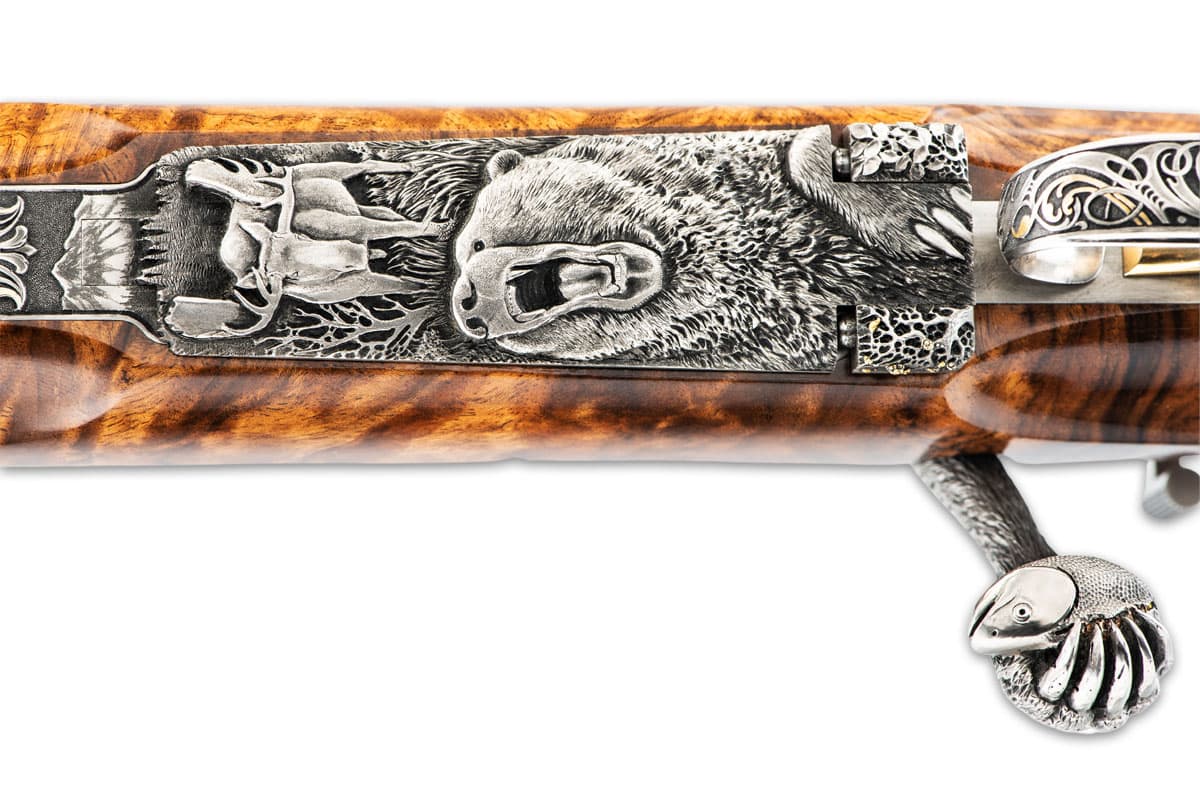 The rifle
The "Big Salmon River" is a newly manufactured short action in a small ring design based on the Mauser action chambered in caliber 6.5×55 SE with the highest level of craftsmanship. The magazine box has been redesigned by Hausmann&Co, is much lower than the conventional box and holds three cartridges. The elegant trigger guard is screwed on and the magazine release has been integrated into the hinged floodplate. The 55cm long barrel, the slim system and the elegant, hand-made stock result in an extremely easy-to-handle, delicate and light hunting rifle of the highest class and, together with the unusually themed engraving, make the "Big Salmon River" a worthy SUPERIOR GUN from Hausmann&Co
The case
The "Big Salomon River" bolt-action rifle
Is embedded in a custom-made, deep black lacquered piano case, combined with a red Alkantara inlet and quilted logo.
| | |
| --- | --- |
| Action: | new manufactured bolt-action short system, small ring |
| Calibre: | 6,5x55SE |
| Trigger: | Hausmann&Co match trigger |
| Length: | Gesamtlänge: 109cm, Lauflänge 55cm |
| Weight: | 3.1kg (6lbs 14oz)without scope |
| Stock: | Caucasian walnut, classic cheek piece, ebony application |