The concept
The legendary 'Imperium Romanum' has shaped our history during its existence like nothing of the kind – partially all to the present day. Conveying strength, domination and pure heroism, the eagle often finds himself as a heraldic animal, especially in the European area. Aquila had a quasi-religious importance to the Roman soldiers and has appropriately been worshiped and protected. The story of this impressive, mythical creature is without question enough reason to dedicate a Superior Gun to the Imperium Roman as a decisive historical culture and the eagle as such.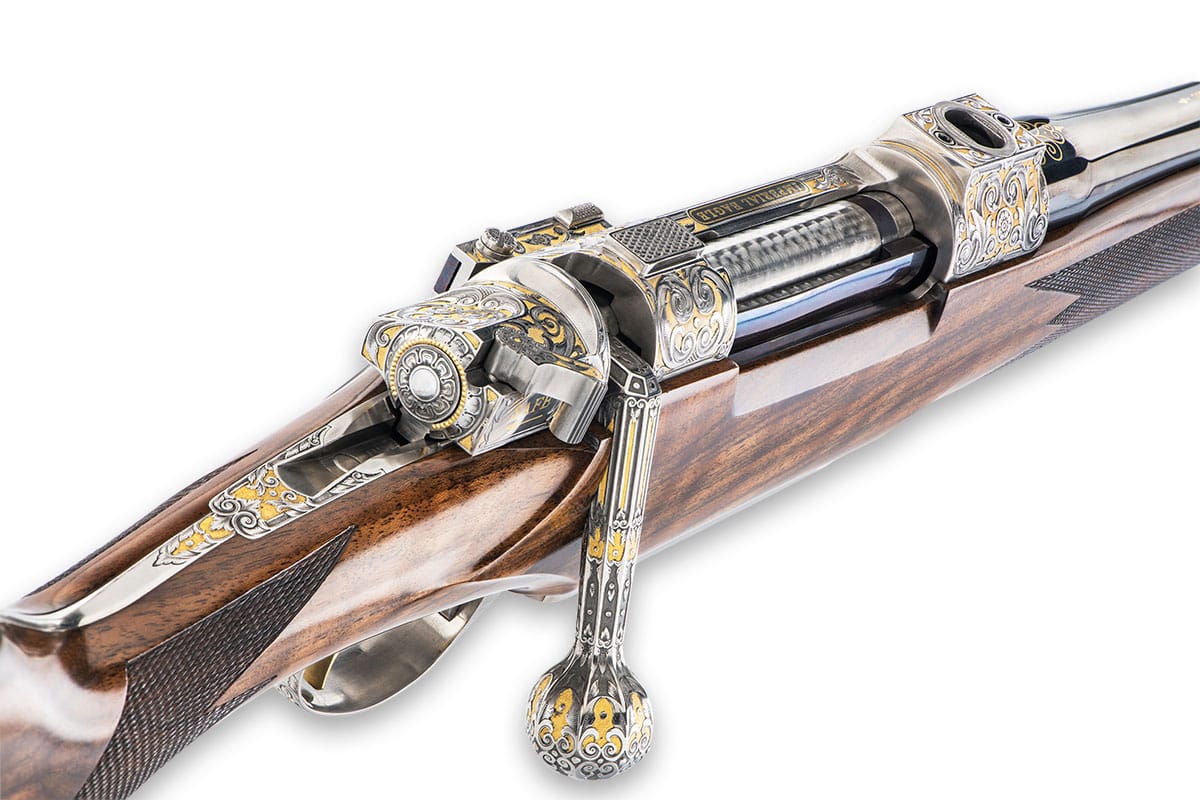 The rifle
The Imperial Eagle is a high-end bolt action rifle in the classic and versatile calibre .300 Winchester Magnum. The system is a CNC-milled Mauser action with a special detail. The cartridge feed is regulated by the design of a in house made detachable magazine, which has been produced out of solid steel. Even the magazine box with its trigger guard as well as the magazine lock are in-house developed and produced. Concerning the barrel, a selected stainless steel match barrel with a special coating and a length of 65 cm is used, making it possible to exploit all of the cartridges potential.
The shot is fired after overcoming 850 g of trigger weight from the in-house, single stage trigger, combined with a set trigger. The chosen scope for this unusual kind of rifle is an appropriate Swarovski z8i 2-16×50, mounted via a pivot mount on the double square bridge. All of these components merged in passionate dedication and pure craftsmanship yield this object of pure extravagance. 
The engraving
A thousand years and a thousand Hours
Having the first drawings and drafts done, it quickly became clear that the Imperial Eagle will without question be one of the most elaborate engravings since the company foundation. This rifle is processed by a deep engraved, plastic shaped arabesque design, attached to the roman ornamental style, spread over all of the steel parts. What is really standing out is the engravings background – entirely laid out with massive, fitted in and punched gold plates. 
Optically and subjectively centred is a complexly realized eagle portrait made out of different gold alloys. The skull is plastically composed of a massive white gold plate, whereas both beak and eyelid consist of fine gold. The eagles' eye itself is made out of green gold. Another highlight is the octagonal bolt lever, whose fine elaboration somehow reminds of a sceptre. The immense amount of engraving skills required for this workout, as well as the fine selection of precious metals combined with a 1000 hours spent reveal a splendid kind of rifle with a strong, individual character and a mystical elegance. Truly a Superior Gun.
| | |
| --- | --- |
| Action: | Mauser 98 bolt action |
| Calibre: | 300 Winchester Magnum  |
| Trigger: | single stage match trigger, combined with a set trigger |
| Length: | 120 cm ( 47 inch), barrel length 65 cm (25 1/2 inch) |
| Weight: | 3,8 kg ( 8lbs 3 oz) without scope |
| Stock: | Caucasian Walnut, German cheek piece, ebony forend |