The action
Round body and Boss style
The entire action frame as well as the trigger plate and side locks of the over and under double rifle RB-SL were designed, constructed and prefabricated from the ground up as a round-body design. The continuously rounded system without reinforcement and with the elegantly flowing heel in the hinge area flows into the barrel bundle via a truly masterful Boss-style fences. The barrel and the action are connected with half-concealed double barrel hooks and a dollshead on the barrel rib. A highlight are the concealed and screwless Hausmann&Co side locks and the elegantly curved and user-friendly side lever .
The perfectly regulated, automatic ejector rounds off this new model from Hausmann&Co and makes the over-and-under double rifle RB-SL another masterpiece of craftsmanship.
The trigger
Double trigger with ulterior motives
When creating the over and under double rifle RB-SL , the double trigger was chosen with good reason. Especially when choosing a moderate calibre (.270 WIN, 7x65R, 8x57IRS, etc.), the graceful design makes a interchangeable barrel like a "Bergstutzen" (big and small bullet) a good choice and enables an extended range of uses for this elegant hunting rifle. However, it is definitely possible to equip the over and under double rifle RB-SL with the proven Hausmann&Co single trigger.
The stock
Individually handcrafted
At last the stock of the over and under double rifle RB-SL gives it this perfectly flowing and dynamic shape and is consistently handcrafted from the finest Caucasian nut wood according to the dimensions of the respective customer.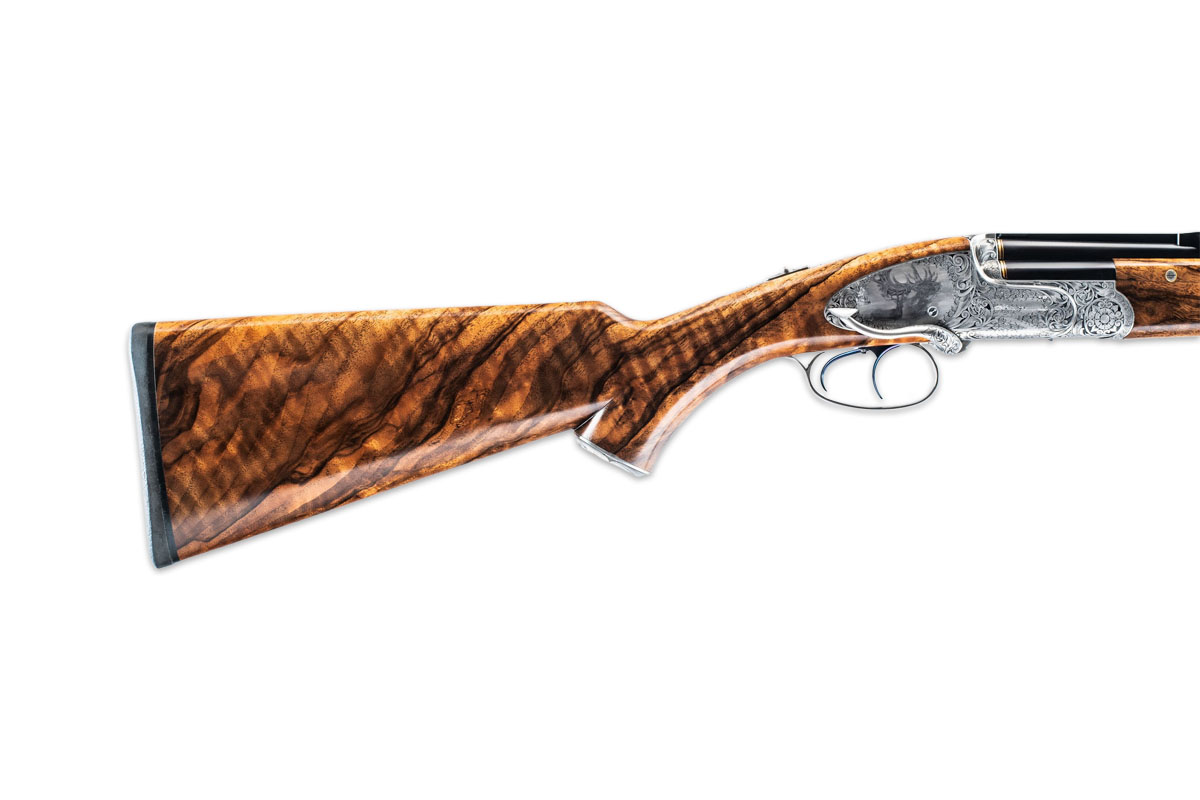 | | |
| --- | --- |
| System: | Hausmann&Co over and under double rifle RB-SL, double barrel hook lock with dollshead, Hausmann&Co side locks, ejector, double trigger |
| Caliber: | all C.I.P. Calibers up to .600NE |
| Overall length: | from 95 cm (37 inch) |
| Weight: | from approx. 2 kg (4lbs 6oz) |
| Options: | Interchangeable barrel set, double trigger with set set, single trigger, single trigger with set set, cartridge extractor, classic sidelocks, skeleton butt plate |