Smart and simple
Ready for future
Combining innovative as well as tried and trusted technology, the Hausmann & Co Take Down can definitely be seen as a revolution within rifle manufacturing. The more than proven Mauser 98 action in all its types – short lenght, standard lenght or magnum lenght – serves as a base for the Take Down.The round or octagonal barrel is connected to the action via a self-centering cone. This design allows the bolt to snap directly into the barrel. A special forend design with a snap that locks into a pin holds both parts of the take-down rifle together. This innovative construction, highest quality materials and supreme craftsmanship interacting with a longstanding development culminate in a repeatable precise grouping without any shifting point of impact.
The magazine
Tailor-made suit for cartridges
 Another innovation of the Take Down is the use of a customized clip-on magazine. The new magazine box and the magazine were designed by Hausmann & Co and are exclusively manufactured in the manufactory from solid steel, adapted to the respective caliber. This decision enormously extends the area of ​​application of the hunting weapon. For example, using interchangeable barrels, it is possible to combine several calibres of different sizes with interchangeable magazines, since the feed takes place via the magazine itself, thus offering a major and decisive advantage over conventional variants. With these fine details, the Take Down from Hausmann & Co stands out clearly from the rest of the market and puts a very special piece of hunting weapon construction into the customer's hands.
The trigger
With or without
Belonging to this exceptional piece of craftsmanship is a perfectly regulated single stage trigger, optionally equipped with a fine set trigger. Both variants are in-house constructions by Hausmann&Co and are exclusively produced directly in the manufacture.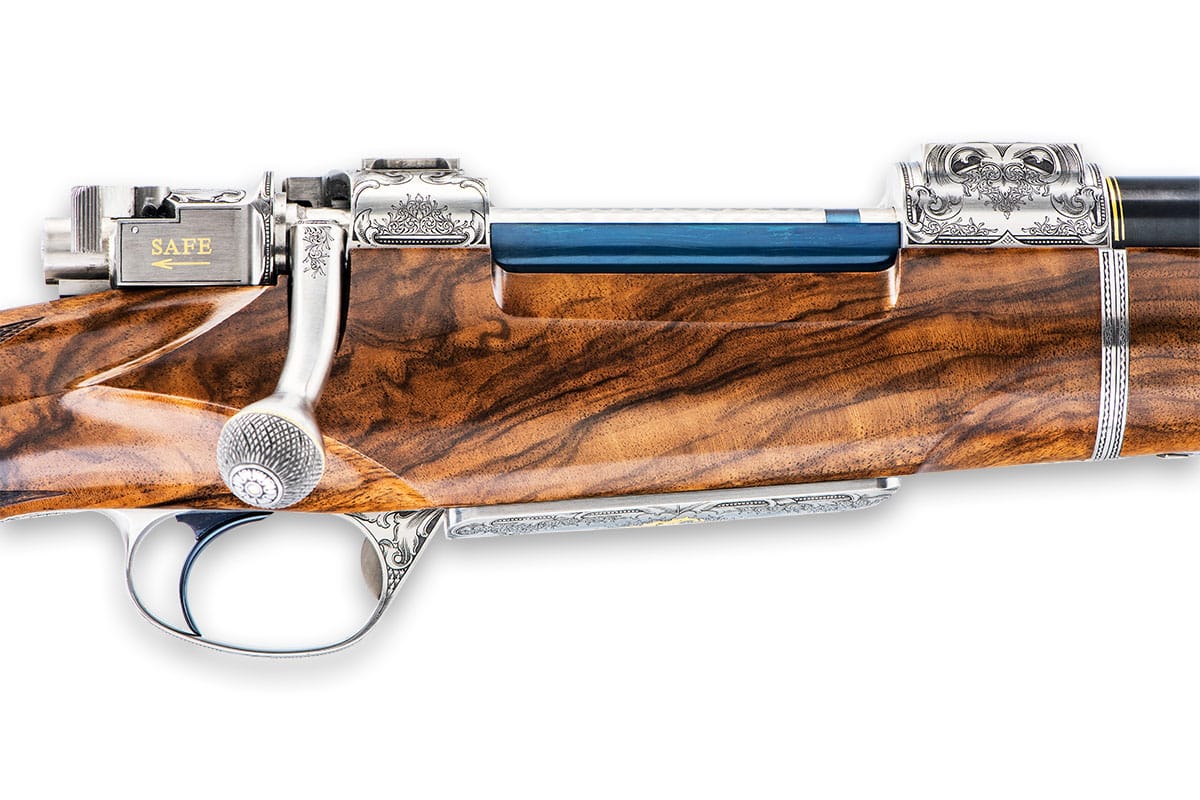 The stock 
Timeless charme
The harmonic and distinctive Hausmann & Co shape is consistently continued by the Take Down. Only the finest Caucasian walnut is used and individually worked out to perfectly fit the customers aiming position. Furthermore, no efforts are spared to finish the surface of the stock with a perfect, handmade oilfinish and get an incredibly sharp checkering done.
A leather covered recoil pad, a skeletonized butt plate made of steel or even the so called heel and toe caps can, as an individual highlight, complete the stock. 
Combinations
Common examples
This selection is purely exemplary and serves as a guide.
Short action: Cal. .308WIN.
Second barrel: Cal. .243WIN.
Standard action:  Cal. 8x57IS(.30-06)
Second barrel:     Cal. 6,5×57
Standard action: Cal. 9,3×62
Second barrel:      Cal. 7×64(.270WIN.)
Magnum action:  Cal. .375 H&H
Second barrel:       Cal. .300WIN. MAG.
| | |
| --- | --- |
| System: | Hausmann&Co Take Down System auf M98 Basis mit Hausmann&Co Ansteckmagazin |
| Kaliber: | alle gängigen CIP Kaliber |
| Abzug: | übersetzter Direktabzug |
| Overall length: | starting at 110 cm (43 inch) |
| Overall weight: | starting at 3 kg (6 lbs 8 oz) without scope |
| Options: | Extended top tang, extended guard, second magazine, octagonal barrel, interchangeable barrel with an own magazine, leather covered pad, case |