The engraving
The ornament is applied to the entire surface of the rifle and is deliberately reduced but dynamic. The deeply carved background was partially laid out in fine gold and fine silver and is intended to interpret the diffuse interplay of light.
The highlight are the polar bears inlaid in fine silver, whose background is framed with a special blue enamel-like synthetic resin that represents the sky and the ocean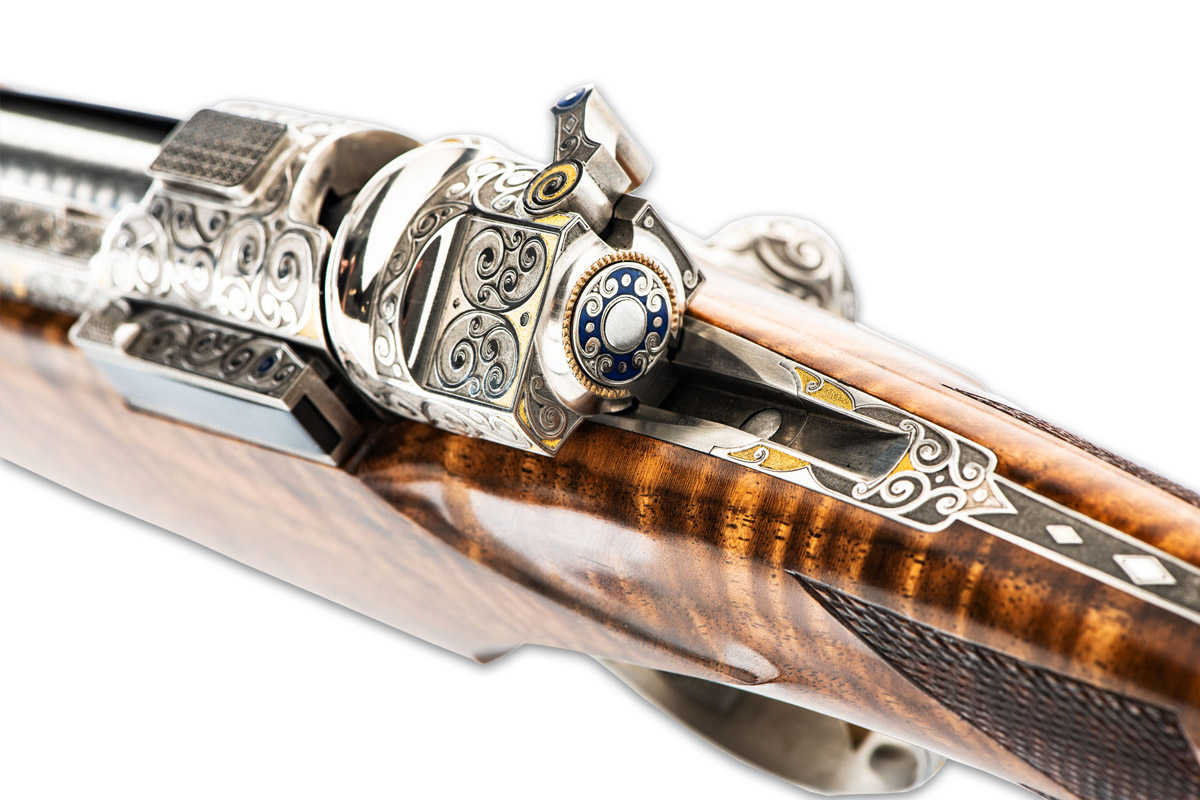 The rifle
The Arctic Summer is an exquisite bolt-action rifle chambered in .375 Holland&Holland. A new fabricated magnum action based on the Mauser design forms the basis for this exclusive hunting rifle.
A classic round barrel with quarter rib and the proven magazine box with hinged floorplate and locking lever in the trigger guard made in-house give this rifle its timeless appearance. The classic safari stock made of the finest Caucasian walnut and leather-covered recoil pad, as well as the in-house match trigger, underline the character of this full-fledged hunting rifle with the highest level of craftsmanship.
The case
The Arctic theme is also reflected on the exclusive piano lacquer case. The finest silver and crystal spangles have been mixed into the cold white lacquer to obtain an icy effect. Inside, dark blue Alkantara is processed and fitted with white decorative stitching.
| | |
| --- | --- |
| Action: | New fabricated magnum bolt action |
| Caliber: | .375 Holland&Holland Magnum |
| Trigger: | match trigger |
| Length: | total length 120cm (47 1/4 inch) barrel length 65cm (25 1/2 inch) |
| Weight: | 3.8kg (8 lbs 6 oz) without scope |
| Stock: | Caucasian walnut, classic cheek piece |