The classic side-lever
Light and aesthetic design
The small action ends in a perfect shaped side-lever with which the rifle is opend. The lever is situated on the right side of the action and allows an easy handling by both left and right handed persons. In addition the side-lever enables a very low scope mounting, which results in a very fast and ergonomic attack.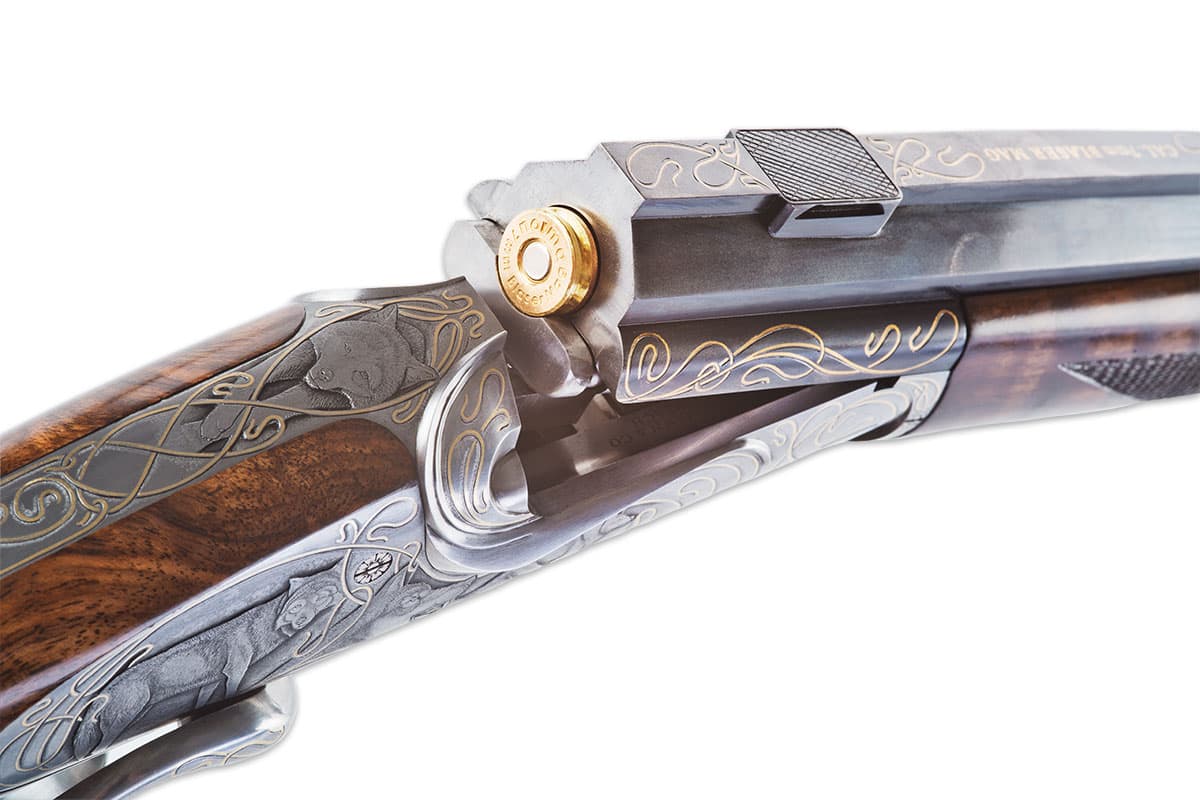 Special fitted action
Modern construction for highest performance
 The barrel is placed deeper into the action, which results in a very low action size. With its length of 65 cm (25,5 inch), the barrel uses the maximum power of the 7 mm Blaser Magnum. A special constructed full-stocked fore-end in combination with a free floating octagonal barrel guarantees an excellent and steady accuracy even on longer shooting distances.
Hand-cocking system with catch
Highest safety without compromises
The action is engineered with a brand-new hand-cocking system combined with a highly secure trigger construction. The hand-cocking slide uses a V-spring, allowing a very silent, smooth and easy cocking.
The upper position of the catch in combination with the Hausmann & Co special safety hand-cocking lock makes this side-lever rifle to one of the most secure weapons in its class.
Direct trigger system
Easy and safe handling
By manufacturing the rifle we choose a direct trigger. This trigger system is executed with a long lever arm which allows a very low trigger weight of 800 g.
When actuating the side-lever, the lock of the rifle always uncocks automatically ensuring maximum possible security.
The stock
 Newly interpreted classic elegance
The fore-end of the Wolfseye rifle is executed as separated full-stocked fore-end. Many elaborated applications made of buffalo horn show the high professional workmanship of this rifle.
The stock with a very elegant bavarian cheek piece, combined with a long flowing pistol grip makes this streamlined and perfect shape possible.
The Engraving
The wolf
 The engraving describes the wolf. On both sides of the rifle different views and scenes of wolfs are shown and embodies the impression of a hunting wolf pack. The bottom shows an aggressive teeth baring wolf portrait. On the upper side of the action an approaching wolf finds its place. The pistol grip cap exhibits a very detailed engraving of a wolf's eye which demonstrates the dangerous elegance of this beast of prey.
The details
Revealing the hidden details
A closer look reveals the very dainty and hidden details of this engraving. For example the inside of the detachable fore-end shows the tracks of a chased deer. To visualize the dynamic of the hunting wolf pack all scenes are framed and highlighted with an elegant gold-inlaid ornament.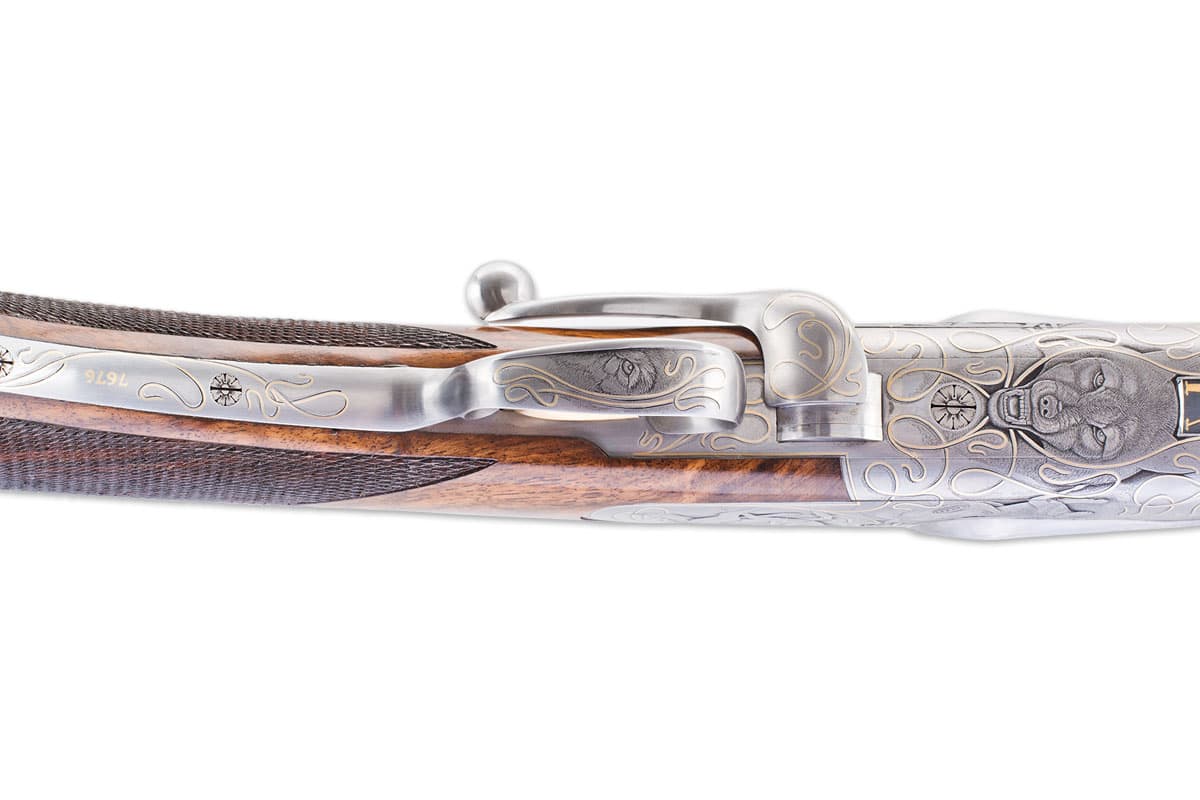 | | |
| --- | --- |
| Action: | Hausmann & Co classic side-lever action, double-barrell hook locking, deep placed barrell base, hand-cocking system with V-spring |
| Calibre: | 7 mm Blaser Magnum |
| Trigger: | direct trigger |
| Total Length: | Total length 113 cm (44,5 inch), Lauflänge 65 cm (25,5 inch) |
| Weight: | 3,5 kg (7 lbs 11oz) without scope |
| Stock: | Caucasian walnut wood, bavarian cheek piece, tie, fullstocked with seperated fore-end, stock with horn application and a very fine checkering |